Our charity
Please support your local NHS charity, caring for people in Torbay and South Devon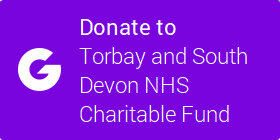 The Torbay and South Devon NHS Charitable Fund is your local NHS charity (registered charity number 1052232) established to benefit the patients of Torbay and South Devon NHS Trust. Your support will help to enhance and improve patient care, enabling us to fund equipment or projects that are over and above those provided by government funding.
We would love to hear from you if you wish to support the charity or find out about what we do, please contact us. Alternatively you can donate or raise funds through JustGiving. For other ways to make a donation, please see below. Thank you so much!
Thanks to your support
Thanks to the kindness of our local communities, donations received in recent years have funded:
medical and other equipment to support patient care, diagnosis and research
refurbishment of ward and other areas to create a better environment and generally enhance patient care
those extra comforts for patients not funded by other sources such as televisions, trips, holidays, recreational facilities and other entertainments
staff welfare, amenities, books, training and education
Find out how your donations made a difference last year, see our: 'Our year, your charitable fundraising' report.
Other ways to donate
If you would like to make a donation either to General Charitable Funds or to a particular ward or department – all you have to do is fill in the Charitable Funds Donation form and send with your cheque, made payable to Torbay and South Devon NHS Charitable Fund, to the following address:
Charitable Funds Office
Finance Department
Regent House
Regent Close
Torquay TQ2 7AN
Alternatively, it can be handed in to the ward or department sister, or to the Cashiers' Office, Level 2, Torbay Hospital.
All donations received are acknowledged in writing and a receipt issued.
AmazonSmile
AmazonSmile is a website run by Amazon which allows customers to enjoy the same low prices, wide selection of products and convenient shopping features.
The only difference is that with each purchase you make through AmazonSmile, Amazon donates 0.5 % of the net purchase price of eligible products (excluding VAT, shipping fees, and returns) to a charity of your choice, at absolutely no extra cost to you.
How it works
It's really easy to get started, all you need to do is follow these simple steps:
Visit smile.amazon.co.uk and log in into your regular Amazon account
Choose Torbay and South Devon NHS Charitable Fund as your charity of choice
Start shopping and support your local NHS Charity every time you make a purchase.
Further information
You can access further information about the Charitable Fund (including copies of our Annual Report and Accounts) from the Charity Commission website.